Earth Day at the Biotech Campus Delft
Today is Earth Day! Since 1970, April 22 has been the day of gratitude for of the Earth and everything it produces. Naturally, attention is also paid to this day at the Biotech Campus Delft.
In honor of Earth Day, a large flower strip for bees and other beneficial insects was sown at the beginning of this week. The seeds have been donated by Syngenta as part of their Pollinator project. This flower strip is an idea of ​​a group of colleagues with the aim of creating more nature on the site/campus. Centrient also contributes in a similar way; they have a 'Honey Highway' along their sidewalk. Thanks to these beautiful initiatives, bees, employees and visitors can enjoy bright flowers in the summer!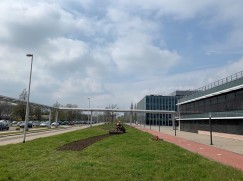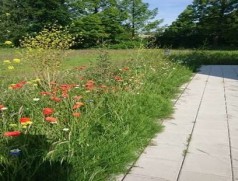 Did you know that we owe 80% of our fruit and vegetables to bees? Bees pollinate flowers and trees and we literally reap the fruits. The conservation of bees is therefore very important for biodiversity. When we were approached earlier this year by local beekeeper Maarten Klein, asking if it was possible to place hives with native black honey bees on the meadow in front of the main entrance, we didn't have to think long about it. From an ecological point of view, this green strip is a beautiful place for the bees. In this way, we not only contribute to the welfare of the bees, but also to the bee conservation in Delft. The first hives were placed at the beginning of April and once the bees are properly grounded, more hives will follow in May.