New, modern future for DSM's historic Grand Office in Delft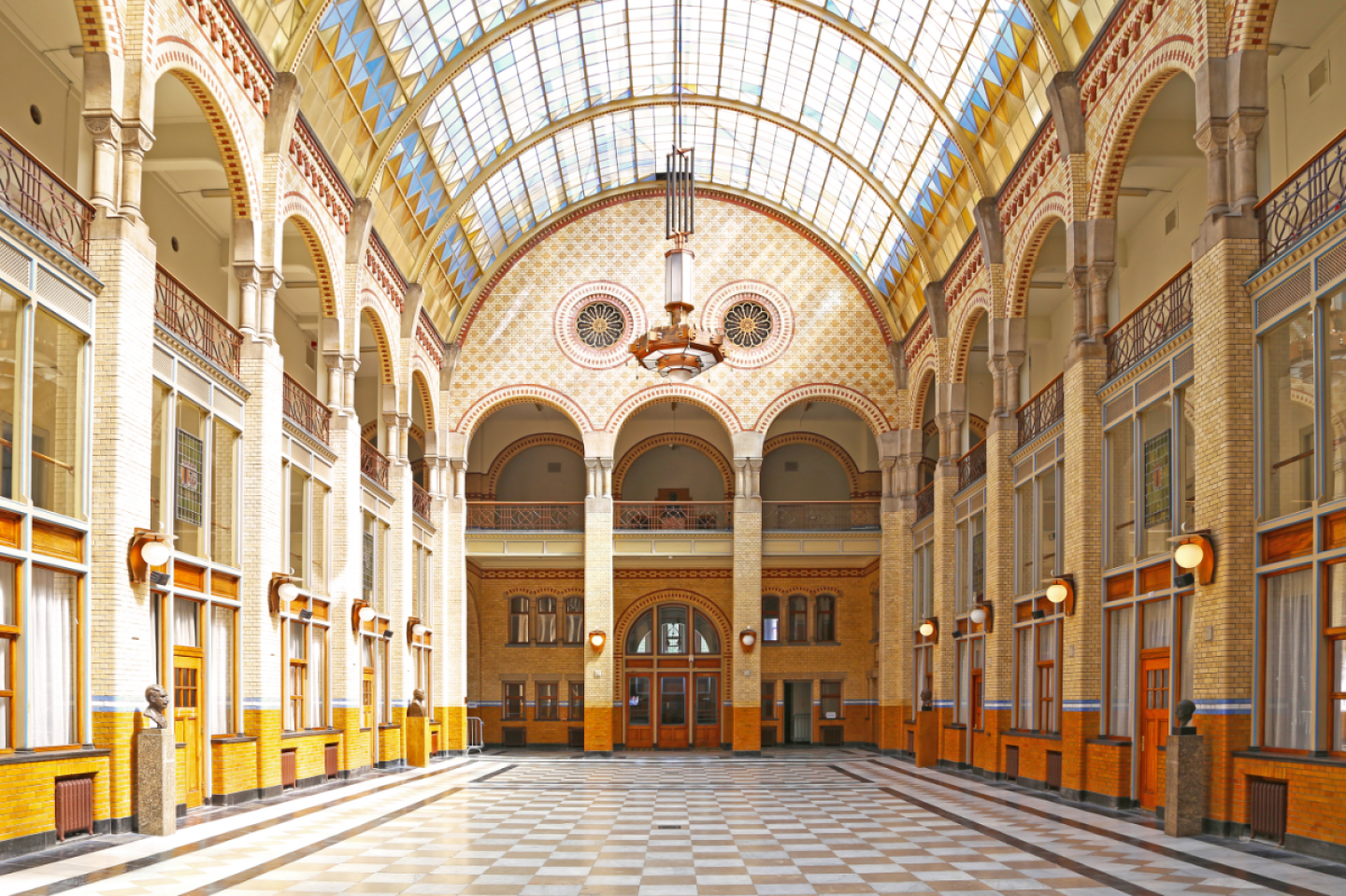 Delft, 4 February 2021 - DSM will transfer the Grand Office or 'Grote Kantoor' on the Biotech Campus Delft for 1 euro to the non-profit organization BOEi, who will restore it and convert it into a high-quality office building with reception areas. It is expected that the first tenants will be able to move into the characteristic building, a national monument from 1907, at the end of 2021.
The entire process of restoration and re-use is expected to take about four years. BOEi's intention is to rent out part of the Grand Office from the end of 2021, and to show the public the progress of the restoration at set times.
The Grand Office, former headquarters of DSM and its predecessors 'Koninklijke Nederlandsche Gist- en Spiritusfabriek' and 'Koninklijke Gist-Brocades', was designed in so-called 'um 1800' style by architects Bastiaan Schelling and Karel Muller and has a distinctive central dome with glass-in-lead windows. For more than a century, the building played a central role as a breeding ground for expertise and innovation in fermentation and biotechnology in the Netherlands, forming the foundation for DSM's current activities in nutrition, health and sustainable living. In 2019, twenty thousand people visited the DSM exhibition 150 years of innovation in bioscience in the Grand Office. The exhibition highlighted the role of microbes and biotechnology in solving global problems and the history of DSM and its predecessors in Delft with patriarch in industrial development and one of the founders of Dutch business, Jacques van Marken.
Fedde Sonnema, director of DSM Delft: "We are delighted that the Grand Office will be given a new, modern purpose while at the same time preserving the special character of this historic monument for the residents of Delft and the rest of the Netherlands. The building symbolizes the thriving and unique bioscience ecosystem of DSM and Planet B.io on the Biotech Campus Delft. About 250 people will soon have a beautiful workplace in the Grand Office and we, but also others, will be able to continue to use the reception areas. Given its proven expertise and experience, BOEi is the best partner to achieve this."
Sylvia Pijnenborg, deputy director BOEi: "It is an incredibly beautiful building that tells a special story: the story of social entrepreneur Van Marken and the rise of industry in Delft. There is certainly demand for office spaces in a building with such allure. DSM also intends to rent space in the building for employees of DSM's Yeast Production Company. This completes the circle and, in addition to a new purpose, the building also regains part of its old function."
Marja van Bijsterveldt, mayor of Delft: "The Grand Office is one of the figureheads of the rich industrial history and innovative strength in Delft with DSM and its predecessors. I am pleased that the monumental building is being restored to its full glory and can again be regularly admired and used by residents of Delft and beyond, for example during Heritage Days, during special occasions and as an office. An asset to the city."
Willy de Zoete, Member of the Provincial Executive of the Province of South Holland: "This wonderful example of reuse and preservation of relatively young industrial heritage is a good example of how, here in Delft too, innovative and social entrepreneurship in the past contributed to the historical experience of South Holland now and in the future. I am pleased that the province has been able to contribute to this."