Cross-pollination at Biotech Campus Delft
They are essential to humans and nature, pollinating crops and providing biodiversity in ecosystems. We're talking, of course, of bees. But scientists warn us that the bee population declines. DSM is aware of this problem and has created space for the diligent pollinators through three initiatives. Manager Site Affairs Douwe Joustra (DSM), Program Manager Ted Gottenbos (Centrient), Operational Expert Laurens Ekkelkamp (DSM) and beekeeper Maarten Klein talk about the new Delft home for bees.
Beehives
Anyone arriving at DSM Delft will receive a friendly buzzing welcome. In the meadow next to the main entrance there are three hives for the black honey bee. Beekeeper on duty Maarten Klein has long seen 'green' opportunities on the DSM site: "It is a well-protected area and there are all kinds of flowers: an indication of a fertile environment for honeybees." The inspired beekeeper sent an email to DSM, which landed in Douwe Joustra's inbox. Joustra appreciated the initiative and created support for the bee within DSM. "This fits to the innovative character of Biotech Campus Delft and contributes to the atmosphere on the site," Joustra says. An innovative, green and attractive campus with a fine business climate – also for the bee.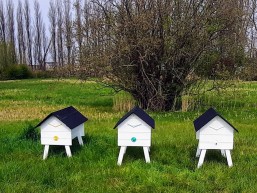 Honey Highway
Centrient, leader in sustainable antibiotics, also contributes to a bee friendly environment. Program Manager Ted Gottenbos came into contact with Deborah Post, initiator of the national 'Honey Highway' initiative, through former colleague Jan Blom. The result? A new 'bee highway' of flowers between the Centrient Office and the ZORf factory. This is also noticed off campus, Gottenbos notes: "People see that we are not 'evil industry', but part of society." Thus, more and more green and innovative ideas are buzzing about the campus. "There are a lot of people working here who want to create space for new initiatives," the Program Manager proudly explains.

Flower Lane
During 'Earth Day' in 2019, the seed was sown for a special flower strip on campus. Since that moment, enthusiasm for a greener campus grew, also among colleagues of Operational Expert Laurens Ekkelkamp. Energy. Momentum. Pressing on. Syngenta supplied free seeds and pilot fields were sown. The result: a biodiverse success full of bees, butterflies and ladybugs. The colorful flower strip now meanders from halfway up the Castle Yard to the front of the Beijerink Center. "We get a lot of nice feedback from employees and visitors," says Ekkelkamp. "In addition to its effect on nature, the flower lane has a calming effect on people." This makes the Biotech Campus Delft a source of inspiration for other business locations and industrial estates.