New headquarters and application facility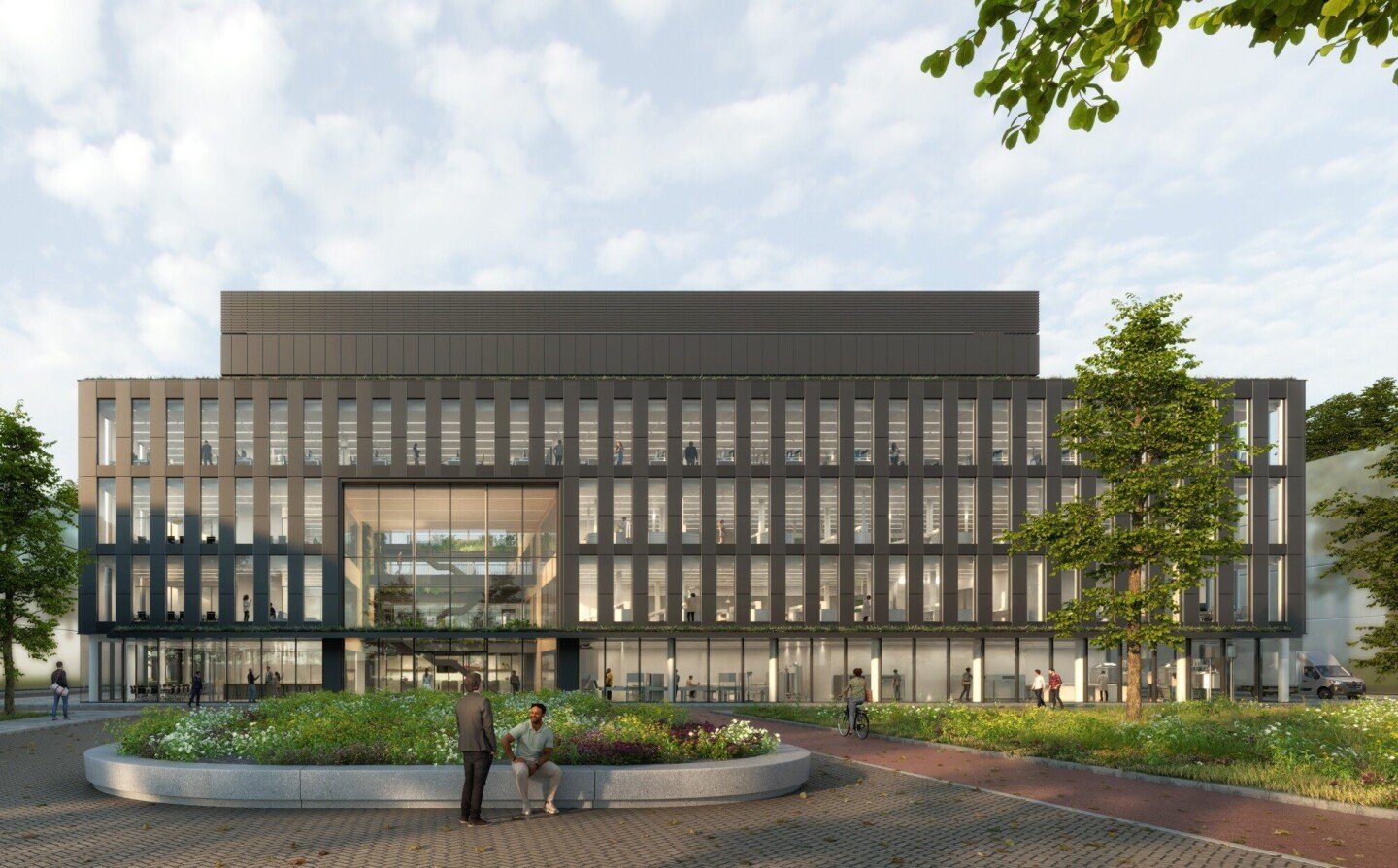 dsm-firmenich is building a new head office on the Biotech Campus Delft for the Taste, Texture & Health business unit. The spectacular premises, designed by architectural firm cepezed, will also be home to dsm-firmenich's application specialists in Delft: they will include a brewery, a cheese factory and a bakery. The main feature: an abundance of light. It's not coincidental that the working title is 'Project Sunlight'.
"We wanted an inviting and transparent building. And that's what we're getting," say Project Director Harry Spuyman and ready-to-operate Manager Prashant Gupta. They will supervise construction over the next few years. The first piles will be driven into the ground in 2023 and the residents will receive the keys mid-2025. The building, which will rise up on the side of the Prinses Beatrixlaan, will have four residential floors and be around 23 meters high.
Sustainable, healthy, tasty and nutritious
At the entrance of the building, there will be a demonstration kitchen where dsm-firmenich's food experts will work with customers on new products. State-of-the-art facilities will allow customers to build on their portfolio with sustainable, healthy, tasty and nutritious food products, such as plant-based alternatives to fish and meat, sugar substitutes and lactose-free dairy products. There will also be laboratories and the top of the building will be home to the headquarters of the Taste, Texture & Health business unit. ASR Dutch Science Park Fund is investing in the new building and dsm-firmenich is renting the building for at least 20 years. "That shows how important Delft is for dsm-firmenich," say Spuyman and Gupta. "It will be our base for the whole world."
Everything is state of the art
Everything is state of the art in the new building. For example, the outer walls will be clad with high-efficiency solar panels. "We want to be energy neutral," says Spuyman. "So we generate our own energy. We'll also work with certified building materials that are sustainable and produced as near to the site as possible. With these and other measures, such as LED lighting, heat pumps and smart climate technology, we will ensure the most sustainable building possible. We'll achieve the 'BREEAM Outstanding' rating, the highest certification possible."
Besides being good for the environment, the building will also be good for the people who work there. Gupta continues, "We want to achieve the 'Well Platinum' level for an environment in which people feel good. With an abundance of light and visibility, facilities nearby, a pleasant indoor climate and lots of greenery, we'll achieve it. The building will also be accessible for people with disabilities. dsm-firmenich strives for inclusion and diversity, so for example we'll provide lifts, wide pathways, height-adjustable desks and switches that people in wheelchairs can easily reach."
Hybrid working
The building will be home to people who currently work in the Wetering Office, the R&D building and the Food Innovation Center. The Wetering Office is old and ripe for demolition. The R&D building and the Food Innovation Center will be renovated. Gupta, together with dsm-firmenich HR department, is busy talking to future users about their wishes for the layout. "We like to hear from them how they work best. The decision has already been made in favor of the hybrid way of working where nobody has a permanent place, you can sit wherever you like. There will also be 'Team Spaces' where groups of people can work together. Of course, there will also be concentration areas, conference rooms and meeting places. We are now discussing exactly what that will look like."
Little inconvenience
The impact of construction will be minimal for local residents. Spuyman explains, "We will cause little construction nuisance. For example, we will not pile the foundations, but will screw them in. And even in the final situation, local residents will notice very little. The appearance of the location will change, of course: the building will be visible from the outside. But we are paying close attention to noise emissions, for example, by enclosing the heat pumps." And it goes without saying that regulations regarding nitrogen have been met. So everything is well on track for a dsm-firmenich Taste, Texture & Health headquarters and application lab to be proud of!