European Health Catapult BioTech finalist selected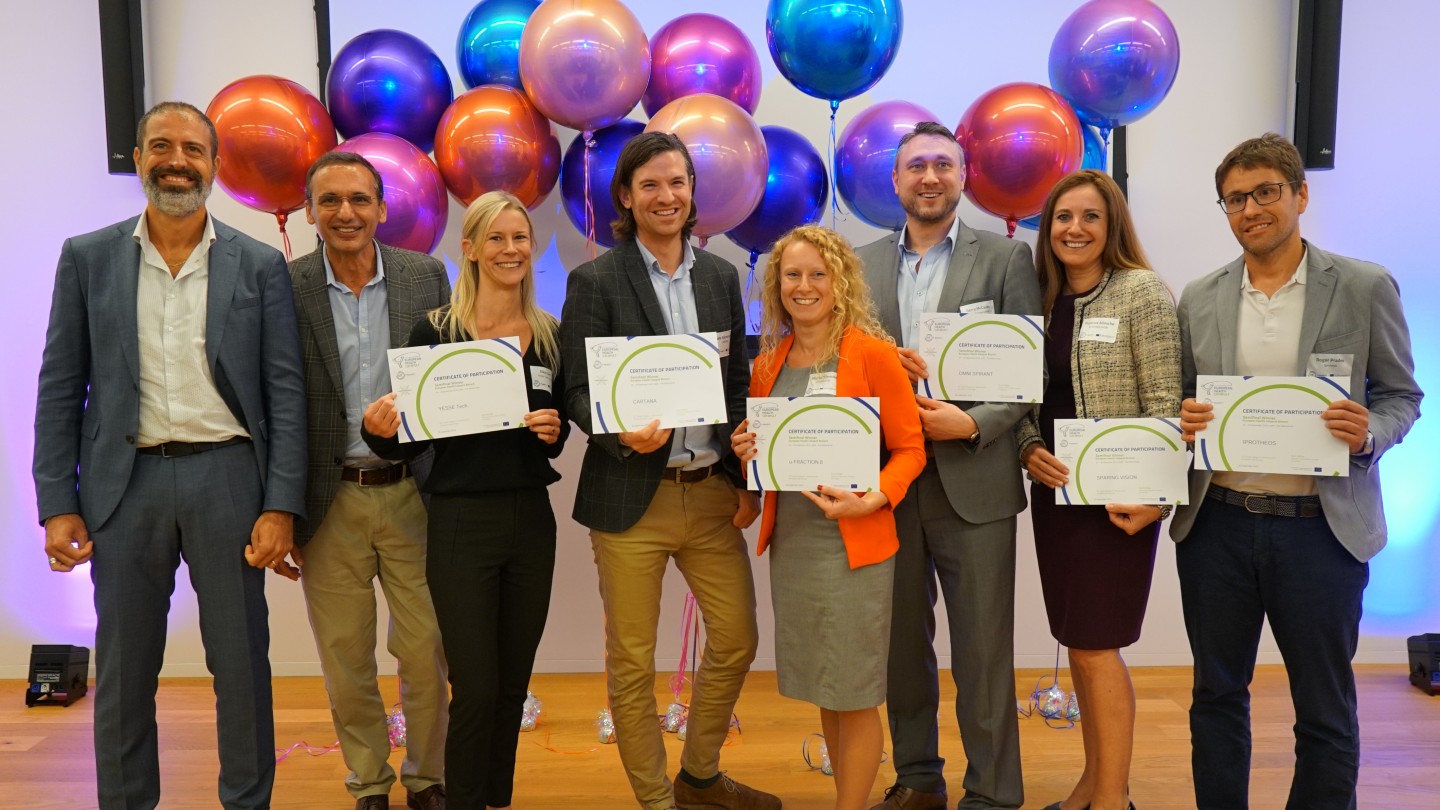 A total of 13 exceptional biotech start-ups participated in a two-day intensive training aimed at strengthening their value proposition and improving their pitching, at the first of the three European Health Catapult (EHC) Semifinals.
Pitch Day
On the third day, which was combined with the EIT Health Investor Forum, the EHC start-ups gave a pitch in front of an investor jury. In total, the BioTech Catapult Semifinalists asked for approximately €112 million for future investments. In the afternoon, the start-ups had an opportunity to network and establish further connections with investors and health industry representatives. The seven finalists will pitch at the EIT Health Summit in Paris.
Bart Haex, Business Creation Manager EIT Health Belgium-Netherlands: "The EHC-competition is a unique chance for start-ups to introduce themselves for the European health & healtcare sectors and to meet with intersting research institutes, companies and investors."
The EHC investor jury selected seven BioTech start-ups to go through to the finals of the European Health Catapult competition which will be held during the EIT Health Summit on 2-3 December 20189 in Paris, France. There they will be joined by MedTech and Digital Health start-ups and all the finalists will pitch their innovations to compete for recognition, the attention of investors and prizes worth a total of €210 000.
The 2019 European Health Catapult BioTech Finalists
Cartana
(CLC Scandinavia)

Decoding the brain

CARTANA is a Biotech company that revolutionizes Research & Development (R&D), biomarker discovery and treatment validation with its patented In Situ Sequencing (ISS) technology, which is based on 20+ years of development by Prof Mats Nilsson (SciLifelab, Stockholm, Sweden). ISS is the first sequencing technology inside tissue samples, which enables something truly unique: Integration of deep molecular profiling with tissue morphology analysis, a still commonly used practice in pathology and R&D pipelines.

CARTANA's ISS generates "Google-like Bio-maps" that can be navigated and explored like Google maps/Street view, but in tissue samples. ISS generates ~100x deeper data per sample than state of the art, saving costs and time, offering Researchers and Pharma a unique tool to speed up their R&D and find their new targets in tissue samples. CARTANA currently performs ISS service to Key Opinion Leaders in Academia and Pharma industry generating early revenue, attention and market traction. CARTANA is now finishing the development of ISS reagent kits with patented technology and will launch its products for the Neuro- and Cancer research market in Q1 2020. To achieve the conversion to the product business model, CARTANA raises capital for product launch, marketing and sales, targeting major Core facilities, Pharma & Biotech companies, as well as data-mining Health tech companies globally.

The company has developed a disease-modifying treatment for epilepsy, targeting the epileptogenesis process

Iproteos is a biotechnology company based in Barcelona committed to the development of novel drugs to improve the life of patients afflicted by CNS diseases. The company has developed a disease-modifying treatment for epilepsy, targeting the epileptogenic process. Marketed drugs and the ones under development address the main symptoms –seizures– but cannot modify the progression of this condition. Iproteos compound is a BBB-permeable small molecule that has demonstrated efficacy and good safety in the pre-clinical and non-GLP tox assays conducted. The company is currently raising €4.6M to progress the GLP pre-clinical studies and the clinical Phase I for its epilepsy treatment.

Developing Regenerative Gene Therapies with the Potential to Transform Respiratory Medicine

OmniSpirant are developing an inhaled gene therapy platform based on regenerative stem cell exosomes. Their patent pending surface engineered and bioengineered stem cell exosomes are being harnessed to develop first in class regenerative gene therapies for Cystic Fibrosis (CF) and Chronic Obstructive Pulmonary Disease (COPD). The mucus penetrating exosomes have similar transformative potential for treating many other respiratory diseases of severely unmet patient need.

A breakthrough treatment of Retinitis Pigmentosa, an orphan, blinding inherited retinal disease

SparingVision, a biotech company develops SPVN06, a breakthrough treatment of Retinitis Pigmentosa, an orphan, blinding inherited retinal disease (2 million patients worldwide). SPVN06 uses a gene therapy-based approach, independent of mutated genes. By a single subretinal injection, SPVN06 prevents and stops degeneration of cones photoreceptors, first step in the disease evolution, leading to total blindness. The first clinical trial will begin in 2020. SparingVision is an agile company, a smart mix of an experimented team, a strong scientific expertise from Vision Institut (Paris), world renamed Scientific advisors and supportive investors such as Foundation Fighting Blindness (US), Fondation Voir & Entendre and Bpifrance.
Takis
(Innostars)

NeoAntigen Cancer Vaccines: the future is now

Takis is a Biotech Company stemming from Merck researchers (currently 20 scientists and turnover 1.8M€). TK-NEO is a patient-specific DNA-based Neoantigen Cancer Vaccine (NCV) for therapeutic vaccination in patients with advanced/metastatic solid cancers, with a 6-weeks cycle from cancer DNA sequencing to delivery, thanks to patent pending plasmid DNA production and bioinformatic pipeline. TK-NEO was proven at pre-clinical stage to completely heal a lung cancer in humanized mice in 2 months. The target is to realize a GMP DNA facility and run a Phase I Clinical Trial (investment 2 M€) before licensing to pharma for a market value of 1.5 b€ only considering the first application to melanoma.

uFraction8 has developed a new type of filtration technology that offers significant benefits over the incumbent technologies of pore

uFraction8 has developed a new type of filtration technology that offers significant benefits over the incumbent technologies of pore-based filters and energy intensive centrifuges. uFraction8 is targeting the biomanufacturing and bio-research markets where biological cell processing is particularly underserved by existing solutions.
Yesse Technologies
(former MOUsensor) (CLC Belgium-Netherlands)

Yesse Technologies is on a mission to decode every single smell on this planet with its human nose-on-a-chip technology

While doing so, Yesse will create an Odoromics database of scent, indexing odors ranging from disease-specific odors (i.e. unique smell of Parkinson's disease) to fragrances in a perfumer's palette. We are unique in that we are producing human odor receptors in their native environment (i.e., the olfactory sensory neurons in the nose) and have developed a way to harvest these receptors and activate them ex vivo. Instead of trying to mimic olfaction artificially, we leverage the power of nature and merge it with cutting-edge nanotechnology in collaboration with Imec.