Explore and connect at EFIB 2019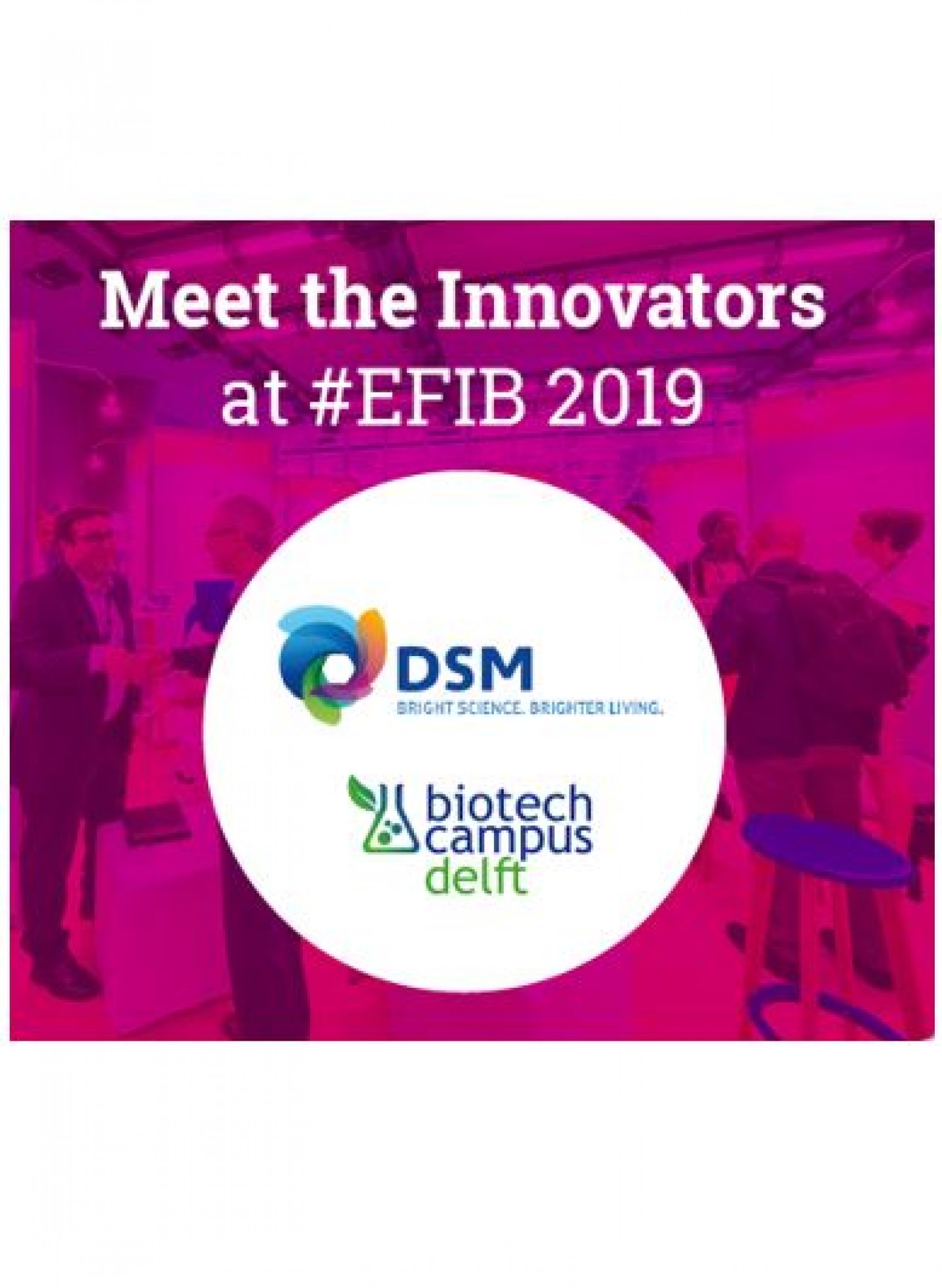 Meet DSM Innovation Center at the EFIB
in Brussels on 30 September – 2 October 2019.

Europe's leading event for the bio-based economy. We look forward to welcoming you!

There are plenty of opportunities to meet and engage with Biotech innovators at the EFIB 2019: themed product showcases on food & nutrition, materials & packaging, fashion & textiles, technologies & processes, as well as tastings, start-up pitches, and guided tours. Also the DSM Innovation Center will be present a the EFIB.
Curious about the DSM Innovation Center? Read the facts below and we hope to see you at the EFIB!

Which strategy is followed by the DSM Innovation Center (DIC)?
The DSM Innovation Center has two functions. The first is to help develop new business, focusing on areas outside the current scope of the company's business groups. The Innovation Center identifies and invests in new and innovative growth options, initially through the Business Incubator and then by developing and extracting value through the Emerging Business Areas (EBAs).

The Innovation Center's second function is to accelerate the innovation power and speed of our core businesses. In this role, it supports all DSM's businesses through the Excellence in Innovation Program, DSM Venturing, and the IP & Licensing department. In addition, the Chief Technology Officer, acting through the Science & Technology Department, ensures the quality of the total R&D competence base, including monitoring and ensuring access to early-stage technologies with disruptive potential through the Corporate Research Program.

Which kind of start-ups are wanted and which technologies/approaches are the most interesting for DSM?
We specialize in (but are not limited to) human nutrition, biomedical, solar and 3D printing. Naturally our focus areas are closely linked to our purpose of enabling better food, nutrition and health for all, making the low carbon economy a reality through solutions that enable customers to cut emissions and helping society transition towards a circular and bio-based economy.

What is offered for start-ups by the DSM Venturing and the Biotech Campus Delft and how they can apply?
Venturing
If we want our society and planet to have a brighter future, we need to invest in it. At DSM that's exactly what we've been doing for over a century with our world-class science and innovation. In 2001 we upped the ante by creating DSM Venturing. Today, DSM Venturing has invested in more than fifty cutting-edge start-ups working in Nutrition, Health & Sustainable Living. We fill the innovation pipeline for DSM by helping inventors and entrepreneurs with everything from ideation to operating a sustainable business. While (of course) we like to take an active role in these start-ups' activities, we also believe firmly in keeping a discrete distance and enabling them to retain their own identity, entrepreneurial spirit, key people, agility, enthusiasm and business responsibility. Perhaps most importantly, our commitment to these investment companies goes way beyond funding. We draw upon all our collective experience to coach entrepreneurs whenever (and wherever) they need it; and this is supported by the immense scientific and commercial resources within DSM - in everything from IP, validation, scaling manufacturing, quality and safety, to market intelligence, partnering and licensing; and new technology scouting.
Our typical financial investment over the lifetime of a venture varies from €1 to 20 million with a typical first investment of between €100k and €5m.
We take minority stakes, usually between 5-25%.
We can lead or follow rounds (we typically prefer to syndicate larger deals, and will do seed funding through post-IPO if there is a good strategic fit).
We are active partners and usually ask to serve on boards.
We're on the ground and especially active in the North American and Europe markets.
Biotech Campus Delft
The Biotech Campus Delft is a joint initiative of DSM and 4 other parties, and therefore focuses more broadly on biotechnology in general. The Campus offers lab and office space, startup training programs in collaboration with YES!Delft, access to all biotech-relevant competences (genetics, fermentation, downstream processing, analysis), access to the pilot plant BPF, financial support and mentoring.
You can meet DSM Innovation Center at EFIB in Brussels on 30 September – 2 October 2019.