dsm-firmenich and ASR Dutch Science Park Fund entering into a long-term collaboration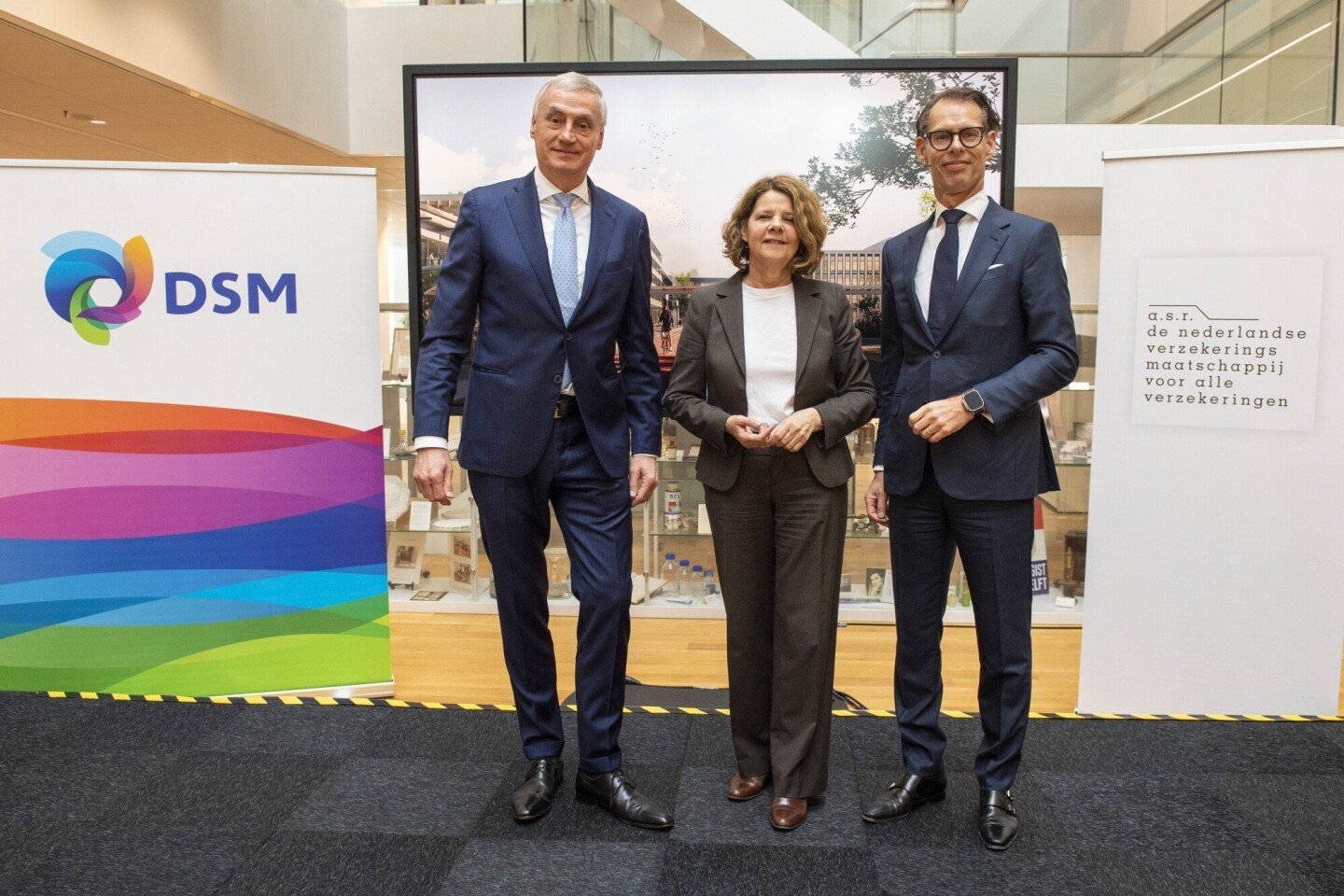 In 2019, DSM, which became dsm-firmenich on May 9, 2023, opened its site in Delft to other parties in the field of biotechnology. Now, four years later, it is time for the next step: dsm-firmenich and ASR Dutch Science Park Fund are entering into a long-term collaboration. They are further developing the Biotech Campus Delft into a world-leading campus for life sciences. This will boost the Dutch knowledge sector, sustainable food innovations and the bio-based economy. Site director Fedde Sonnema says: "Employment will be greater than ever before."
There is exciting news at Biotech Campus Delft: The ASR Dutch Science Park Fund is investing hundreds of millions of euros in the open innovation campus over the next few years. The money is being put toward new construction and the purchase of part of the existing offices, shared facilities and laboratories, among other things. dsm-firmenich will remain the owner of the Rosalind Franklin Biotech Center and the Biotech Campus Delft, including infrastructure and facilities. dsm-firmenich will also improve accessibility to the campus, thus ensuring the long-term development of the site. The parties announced their collaboration publicly on April 6, 2023.
Successful campus
Successful campuses have an attractive mix of knowledge institutions, start-ups with growth potential, scale-ups with high economic added value and established companies with a worldwide network and significant research and development activities. Biotech Campus Delft offers that mix, states site director Fedde Sonnema. "Since the site opened to third parties, sixteen new companies have established themselves here; we are the fastest growing innovation campus in the field of life sciences. We also work very closely with TU Delft and InHolland University. There are also five factories. All parties are active in the biotechnology field. They share knowledge and facilities. This is how a network, or an 'ecosystem', of organizations developing pioneering solutions for global food issues is formed. Planet B.io is the organization that is building this network on campus. This will remain the case, but now we no longer look to dsm-firmenich for expanding offices, facilities and laboratories, but to the ASR Dutch Science Park Fund. This fund therefore also joins the Supervisory Board of Planet B.io, which includes dsm-firmenich, TU Delft, the municipality of Delft, the Province of South Holland and InnovationQuarter."
New headquarters and multi-tenant building
The first building in which ASR Dutch Science Park Fund is investing is the new headquarters with application facilities of the dsm-firmenich Taste, Texture & Health business unit. As Sonnema explains, "On May 9, 2023, dsm-firmenich merged with Swiss company Firmenich [see article on page 3], resulting in DSM's Food & Beverage business unit becoming the combined Taste, Texture & Health business unit. This creates a global leader in ingredients for the food and beverage industry. This will give clients extensive options to offer consumers a healthier and more enjoyable eating and drinking experience. ASR Dutch Science Park Fund is financing the construction of a new headquarters for this business unit, and dsm-firmenich is renting it for twenty years. Immediately this shows how strongly dsm-firmenich is committed to Delft!" Sonnema expects the unit to double in size, to sales of around €3 billion. In addition to the new headquarters, ASR Dutch Science Park Fund is investing in a first 'multi-tenant' building for start-ups and scale-ups. "We are generating sufficient start-up and growth capacity for small, medium and large companies. A total of around 100,000 square meters of offices and laboratories will be added in the coming years," he says. "In twenty years from now, seven thousand people could be working here."
More sustainable, healthier and tastier
Dimitri de Vreeze, Co-CEO of dsm-firmenich is enthusiastic about the development of Biotech Campus Delft. "We need to transform our food system and make our food more sustainable, healthier and tastier while respecting the wishes of producers, farmers and consumers. Delft is a hub for dsm-firmenich in the field of food and life sciences. We are building on 150 years of dsm-firmenich heritage. We can be proud of Dutch nutritional expertise, the knowledge ecosystem and innovations that stem from it."
The mayor of Delft, Marja van Bijsterveldt, is also enthusiastic about the developments. "We strongly believe in the economic and sustainable potential of this site for Delft, for the Netherlands and the whole world. The investment by the ASR Dutch Science Park Fund confirms this conviction. Delft is known for its knowledge and innovations in a wide range of technologies. With the fund's investment, Delft with the ASR Dutch Science Park Fund and dsm-firmenich will make a tremendous, even greater contribution to the bio-based economy in the coming decades. It is therefore important that Delft and dsm-firmenich take on this development together, which will undoubtedly also have an impact on the city."
CEO of a.s.r., Jos Baeten, concludes, "Creating offices and laboratories will allow companies and scientists to work together on important innovations in the field of food and new products for a more sustainable future. This is what the participants in the fund, including a.s.r. and Dutch pension funds, are keen to contribute to."
Proud history and future
Delft has been one of the world's leading fermentation 'hotspots' for more than a century. In 1869, Jacques van Marken founded the 'Nederlandse Gist- en Spiritusfabriek' (the Dutch Yeast and Spirit Factory) in Delft. In doing so, he laid the foundation for the yeast factory that is still run by dsm-firmenich in Delft today. Many innovations developed on campus have found their way into society. Examples include a production strain and process for the production of penicillin and a natural antifungal preservative that protects foods and drinks from spoilage, as well as enzymes that enable people with lactose intolerance to include nutritious dairy products in their diet. Recent innovations from dsm-firmenich in Delft include Veramaris, an algae-derived Omega-3 oil that enables more sustainable aquaculture and healthier fish for consumers, and Avansya's fermentative stevia sweetener.